Zhu Liming, the director of the Yuyu Plantation Professional Cooperative in Zanzi Township, Zanzi Township, Qian'an County, Songyuan City, Jilin Province, is only 34 years old this year. He is already a very well-known big farmer in the local area. Zhu Liming founded a planting cooperative mainly because his ancestors depended on farming for a living. He had a special feeling for the land since he was a child. Although most of the friends and classmates around him went to the big cities for development, Zhu Liming stayed in the village and "cultivated land" without the understanding of most friends.
Although he stayed in the village to cultivate land, Zhu Liming was different from his parents' conservatives. He wanted to plant more land. To this end, Zhu Liming specially established a planting professional cooperative, and the contracted land area has also begun to grow rapidly year by year. With more and more contracted land, large-scale agricultural machinery operations are required for corn planting and harvesting, and the annual cost of agricultural machinery leases is high. Through detailed calculations, Zhu Liming felt that he could buy some tractors, farm implements, and corn harvesting equipment on his own. In addition to his own cooperatives, he could also work for the surrounding growers to earn operating costs, killing two birds with one stone.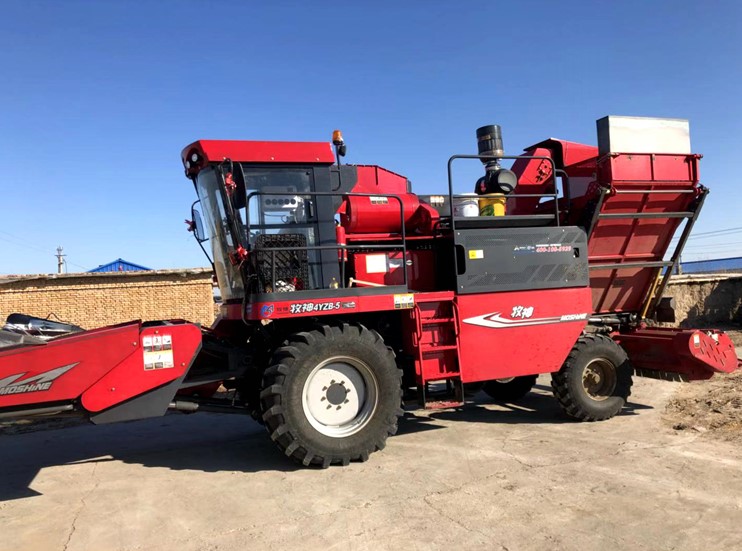 Zhu Liming was a fiercely popular person. After making a good decision, he quickly convinced his family and bought several agricultural machinery. However, because he has never been in contact with a corn harvester and lacks experience, the corn harvester purchased by Zhu Liming has frequent failures, especially during the operating season, often "dropping the chain", and it is difficult to harvest his own corn, let alone to give others jobs. After insisting for two years, Zhu Liming could not bear it and decided to replace this corn harvester.
In choosing a new brand of corn harvester, Zhu Liming has a long way to go. I learned a lot of corn harvester products from the Internet, and went to the agricultural machinery market to see prototypes, to learn more about the technical advantages of these products. Through communication with some corn harvester operators, Zhu Liming thinks that Mu Shen 4YZB-5 self-propelled corn combine harvester is his purchase target. "At that time, I inspected many products and consulted a lot of friends. Many people recommended to me the corn harvest of Mu Shen. In addition to the reliable product quality, we also have a very good market foundation in our local area, and the growers also recognize it. Determined to trade this big five-element maize harvest. "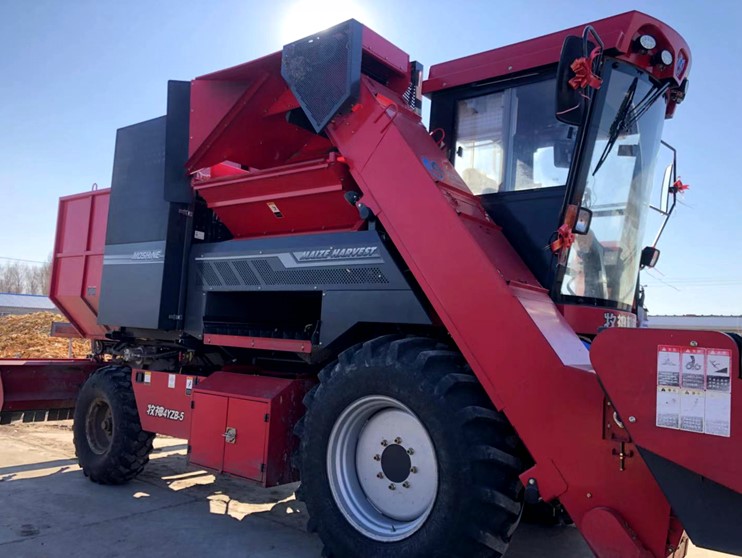 Zhu Liming learned in detail that the Mu Shen 4YZB-5 self-propelled corn combine harvester is a corn harvester independently developed by Xinyan Co., Ltd., which focuses on the Northeast market. This product is dedicated to harvesting ears of corn, which meets the high moisture content of domestic corn harvesting. Features of direct threshing. It can also replace 550, 600, 620, 650 mm and other line spacing headers to meet agronomic needs in different regions. Equipped with 5 sets of horizontal peeling machines, one rubber, one iron or half rubber and half iron can be installed to meet the needs of different corn varieties, with good reliability and high stripping rate. At the same time as corn is harvested, stalk corn can be crushed and returned to the field or straw can be loaded and loaded. The large-capacity hydraulic turnover of the ear box can greatly reduce the number of unloading grains and improve production efficiency.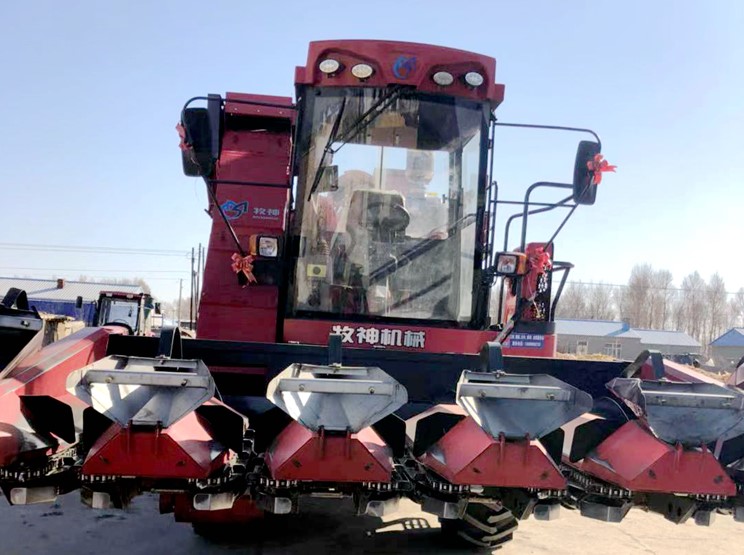 After making up his mind, 2019 is nearing the corn harvest season, and Zhu Liming brought up a herd 4YZB-5 self-propelled corn combine harvester. After the test of a working season, Zhu Liming 's 4YZB-5 self-propelled corn combine harvester operated for more than 400 hours and collected more than 270 corn. When he was busy, Zhu Liming also hired a driver, basically black and white On the contrary, people stopped without stopping, but there were basically no quality problems. They only changed the wearing parts several times, and the after-sales service was also on call. This made Zhu Liming very satisfied. "To be dissatisfied is that there are too few stocks. I originally wanted to buy hydraulic walking, but it was out of stock. I could only buy a mechanical walking." Zhu Liming reluctantly said.
Regarding the future development plan, Zhu Liming said frankly: "In fact, I didn't think too much, I just hope that my cooperative will become bigger and better. If there is funds, I intend to set up a corn mechanization operation team. In addition, they can also earn more profits through agricultural mechanization operations, support each other, and the income can be more secure. "