In October 2019, the northeast and north China ushered in the corn harvest season. As the main corn planting area in the Northeast China, the corn harvest season is a busy season. At a glance, Huang Chancan's cornfield is full of corn harvesters. After the reciprocating harvest, Jin Cancan's corn entered the grain silo, and the black earth was put on a layer of Huang Cancan's "autumn clothes."
In 2012, with the accumulation of corn harvester products and the market, driven by favorable factors such as subsidy policies, rigid demand, and improved product maturity, market sales increased year after year. In 2014, the market sales reached nearly 80,000 units, reaching The peak of historical corn harvester sales has also caused the domestic corn harvester market to quickly enter a saturation period. Although affected by multiple factors since 2015, the corn harvester market has entered a period of decline, but the market saturation is still high. Especially in the Northeast, corn harvesters are almost everywhere. Many corn harvester operators generally report that the price of corn harvest has dropped sharply, and it is difficult to make money, and they have given up the business of operating corn harvesters.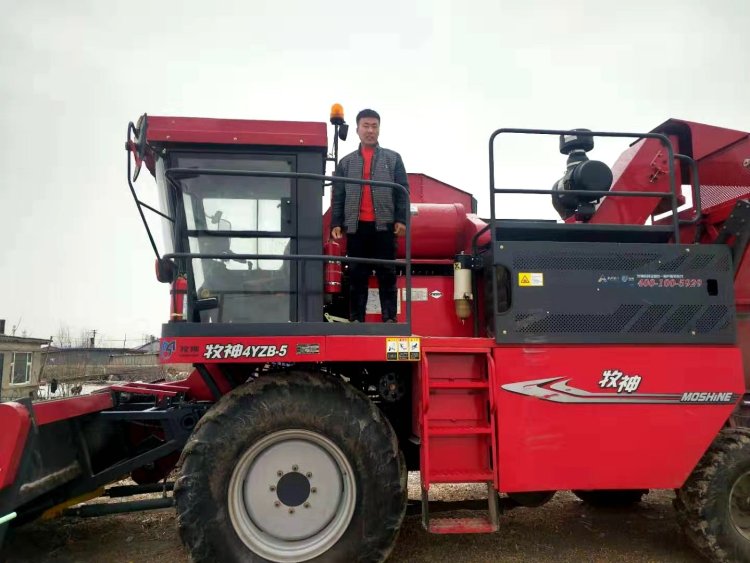 A 33-year-old guy, Liang Liang, from Qianguo County, Songyuan City, was not scared. He chose to face the difficulties and bought a Xinjiang Mud God 4YZB-5 self-propelled corn combine harvester in September 2019. Into the saturated market. Regarding this choice, Lang Liang didn't have any other way of doing business. Instead, he was very simple: "I think there are opportunities in any industry, even if the market is saturated. Some still do. "
Of course, Lang Liang did not enter the corn harvester service industry blindly. As early as 2014, he began to help others drive corn harvesters. He is very experienced in corn harvesting and knows a lot about corn harvesters. Simple maintenance is good. It can be said that he is a young veteran. Working and loving each other, Lang Liang feels that it is also laborious to always open the harvesting machine for others. It is better to buy one to run it. This way, he can not only continue to engage in the industry he likes, but also earn more income when the business is good.
Lang Liang, who had the idea, didn't hesitate too much. When buying corn harvester products, Lang Liang didn't plan to buy Mushen's corn harvester at first, because the price is higher, compared with other domestic brands of corn harvester, Mushen 4YZB- 5 corn harvesters are 50,000 to 60,000 yuan more expensive. However, under the persuasion of a friend, Lang Liang finally chose to buy a more expensive Mu Shen corn harvester. "I have been harvesting corn for four or five years. I know these products well, and I know that Mu Shen is a domestic corn harvester. Okay, but the price is too high, so I did n't think about it. At that time, I was preparing to buy another brand of products. My friend persuaded me that even though Mu Shen is 50,000 to 60,000 expensive, the quality is more assured, and the machine has a long life. The profit after more than one year is far more than 50,000 to 60,000. Even if I do n't want to raise it, I can sell it. More. I think the same is true. In the end, she chose the shepherd. "
After a field operation in one season, the performance of Muyangshen 4YZB-5 corn harvester reflected his own value. Lang Liang thanked his friend for his persuasion very much. "The whole maize god 's five-element corn has dried up more than 370 acres of land and 500 acres of land in a whole working season. The benefits are very good. The main quality is reliable. The chain has been changed only a few times during the whole working season. Intensive work, often in black and white, people stop parking, and did not delay a day of work. "Lang Liang said to the author excitedly.
It is reported that Muyangshen 4YZB-5 corn harvester has many advantages such as simple structure, convenient maintenance, perfect performance, high operation efficiency, and good operation quality. It is equipped with 5 groups of horizontal peeling machines, which can be installed with one glue, one iron or half rubber and half iron, to meet the needs of different varieties, good reliability, and high stripping rate. In addition, the large-capacity hydraulic turnover of the ear box can greatly reduce the number of unloading grains and improve production efficiency. The cutting parts, peelers and other transmission parts are equipped with safety clutches to effectively protect working parts and effectively reduce equipment failure. Combined with the actual operation of Lang Liang, it is enough to prove that the Mu Shen 4YZB-5 corn harvester is particularly suitable for large-area and high-intensity corn harvesting operations in the Northeast region.
Of course, good equipment is also inseparable from timely maintenance. Lang Liang has very rich experience in this. "When the machine needs to be maintained, I will do it in time. I will not go to maintenance because I am busy for a while. Only if the maintenance is done well, the machine will not give you trouble. At the end of this season, I did it for my pastor. Comprehensive maintenance, only the chain needs to be changed in the coming year, and there will definitely not be any other problems. "
Regarding the results achieved this year, Lang Liang felt no surprise: "As long as you have good equipment and are willing to pay, you can think in other places, and think what ordinary people think, even if there are more machines, you can still make money. When you receive it later this year, There are many cars parked on the road, but the people will use my shepherd to collect. One is that everyone recognizes the effect of the shepherd 's work and loves to use it. The other is that we work hard and clean, and they will naturally use us. "
For the future planning, Lang Liang is also very pragmatic: "In the future, I didn't think too much. From the perspective of now, the operation this year basically recovered half of the cost of the machine, and next year will return to the original cost. I plan to do it again in the next year. Buying one, two cars can make money back in a year, and it will be profit in the future. I do n't want to make it big. The family has enough to eat and drink, and life can be a little richer. "