Inner Mongolia Yujinlong Agricultural Machinery Co., Ltd. was established in 2014 and can be regarded as a "new recruit" in the field of agricultural machinery dealers. Although the company has been established for a short time, Bai Wenguang, as the person in charge of the company, is an authentic old agricultural machinery person. .
Bai Wenguang. The first time I was engaged in agricultural machinery sales was in 2011, at that time, it was an agricultural machinery distribution company that I started in partnership with friends. Prior to this, Bai Wenguang had been a driver at an agricultural machinery cooperative, so he knew more about the products of most domestic agricultural machinery brands.
With his knowledge of agricultural machinery brands, Bai Wenguang has been very handy since he was engaged in agricultural machinery sales. In this regard, Bai Wenguang believes that due to his experience in driving agricultural machinery: "I used to operate agricultural machinery before, so I know what agricultural product products are required for various plots and which products are better in quality. I can give users to buy agricultural machinery. They recommend. Applicable products, they come to me to buy agricultural machinery. "
At present, Inner Mongolia Yujinlong Agricultural Machinery Co., Ltd. operates more than ten agricultural machinery brands, and its products involve tractors, corn harvesters, harvesters, silos and various agricultural machinery. Its annual sales in 2018 reached more than 40 million yuan. In the context of the overall poor agricultural machinery market, the sales of Inner Mongolia Yujinlong Agricultural Machinery Co., Ltd. have basically increased year by year, and they have been able to achieve such good results. Bai Wenguang is very modest: "Mainly, we have a short period of establishment, so some rises are normal. Yes. It is to operate with integrity, recommend good products to users, and build good relationships with users, and they naturally trust us. "
Among the sales of more than 40 million yuan, the animal husbandry 4YZB-8 corn combine harvester owned by Xinyan has contributed more than 6 million yuan to Bai Wenguang, accounting for 15% of the total sales. It can be said that it is the number one in Inner Mongolia Yujinlong Agricultural Machinery Company "Meritors." "I have been selling the corn harvester of Mu Shen since 2011. The quality is particularly reliable. After many users have bought it in the past few years, I will recommend my friends to buy it. The sales volume has increased a lot every year. It is really a special Products recognized by users. "Bai Wenguang said.
According to Bai Wenguang, the maize god 4YZB-8 corn harvester can harvest the corn in the opposite direction, and it can complete corn picking, fruit peeling, and fruit collection and loading at one time, and at the same time, it can complete the functions of returning straw powder to the field, laying and drying, or recycling straw. And this product has a very high operating efficiency, it is very clean to pick the sticks, and there are few lost grains. The main thing is that the quality is good, and some users have bought it for five or six years without any problems, and have never used it after sale. "This product can also be hooked up to the Mu Shen 4QX-2200 feed harvester to become a silage harvester, which can be used for one machine, and many users also buy it for this." Bai Wenguang added.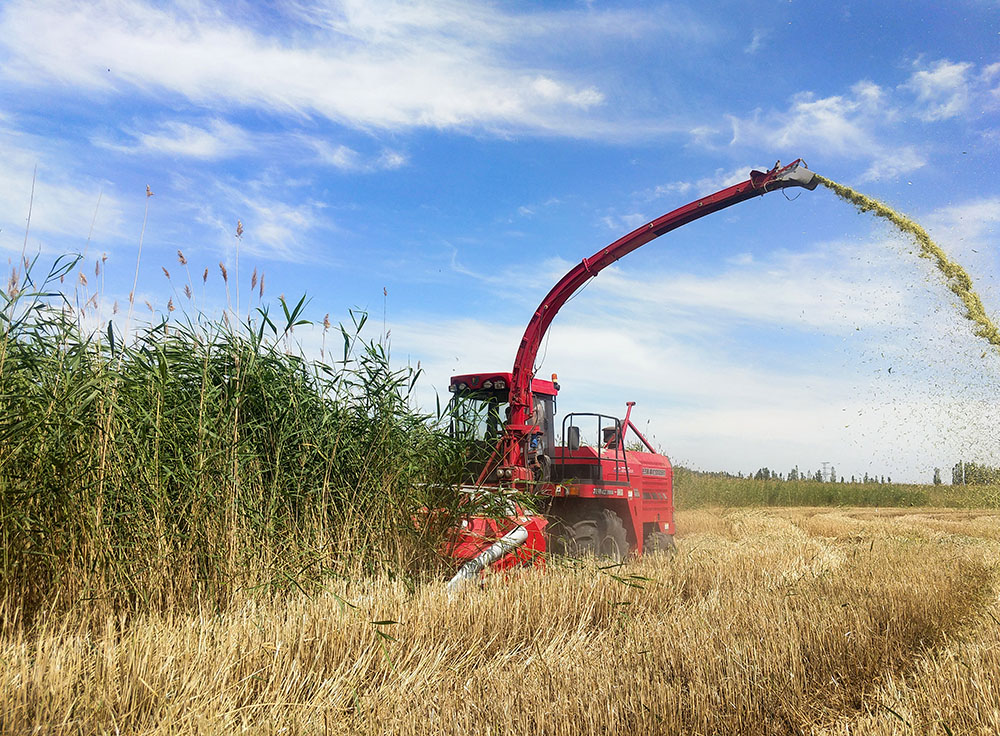 In addition to the Mu Shen 4YZB-8 corn harvester, Inner Mongolia Yujinlong Agricultural Machinery Co., Ltd. also represented Haiyan Tractor and Silage Products of Xinyan, which also brought a lot of sales to Bai Wenguang. Among them, Bai Wenguang is very optimistic about the Xinjiang Mu Shen 4QZ-3000A self-propelled green (yellow) storage feed harvester that has been sold in the past two years. "In recent years, the country has adjusted the planting structure and vigorously supported the development of animal husbandry. The silage market will definitely get better and better in the next few years."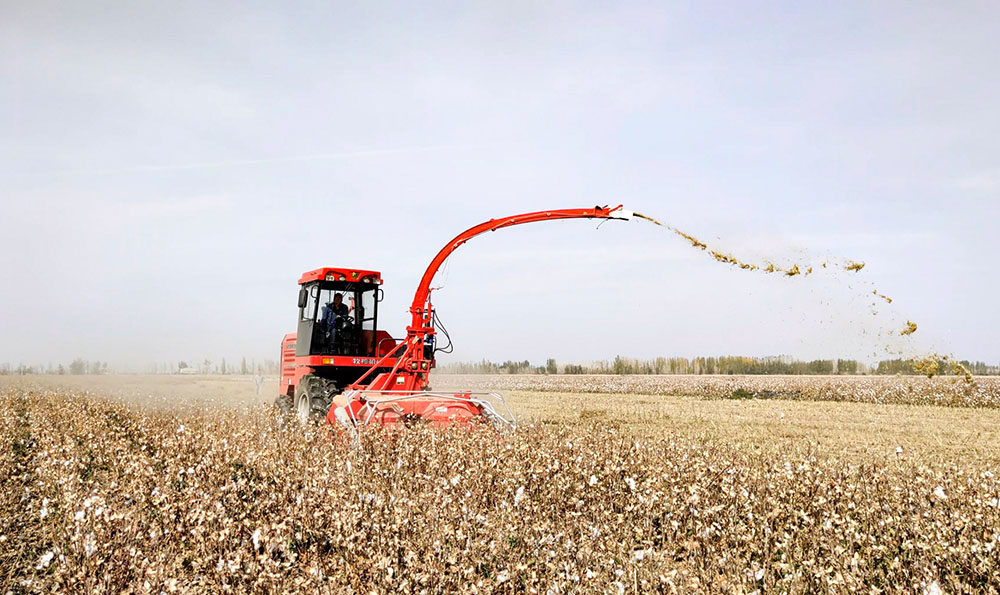 It is reported that Mu Shen 3000A silage adopts advanced single disc saw blade type header and grain crushing device, which can complete cutting, sequential feeding, shredding, throwing, loading, etc. of green (yellow) storage feed crops at one time. Items. In addition, it can crush complete corn kernels, and the feed such as rods and stems will become more fine and soft after being rubbed by the crushing roller, which effectively improves the digestibility and utilization rate of the feed. The integrated harvesting table of the Mu Shen 3000A silage machine solves the problem of incorrect harvesting and realizes the harvest of green (yellow) silage in different planting modes to ensure the same cut-off length of the feed. It is currently the leader among many domestic silage brands.
For the future development of the agricultural machinery industry, Bai Wenguang did not worry too much. He believes that as long as he maintains his original intention and adheres to the principles, he can provide farmers with high-quality and cost-effective agricultural machinery products such as Mu Shen, which can maintain relatively good returns even if the market environment is not good.