The harvester operates under harsh conditions for a long time. Wear, bumps, and bumps will affect the normal operation of the machine. Therefore, it is especially important to perform regular maintenance for the silage machine. If the maintenance is not in place or neglected, it will not only shorten the life of the machine, but also directly damage the machine. It is well known that the operation season of silage machines is not long. When harvesting operations, even one day of downtime will cause users to suffer losses.
The silage harvesting machine has a complicated structure, and maintenance requires a lot of time for the user. It also needs to be meticulous and meticulous during maintenance, which places high demands on agricultural machinery users. In order to solve the problems of users neglecting timely maintenance or inadequate maintenance, at the same time reducing the user's labor intensity, reducing maintenance time, improving equipment operating efficiency, silos equipped with centralized lubrication systems came into being.
Mu Shen owns haulage silos with 1.2m, 1.8m and 2.2m cutting widths, and self-propelled silos with 2.2m and 3m cutting widths. In 2019, Mu Shen self-propelled green (yellow) feed storage harvesters are equipped with a centralized lubrication system to provide lubrication to the bearings of the main working parts of the header (grain crushing device, header wheel and other components).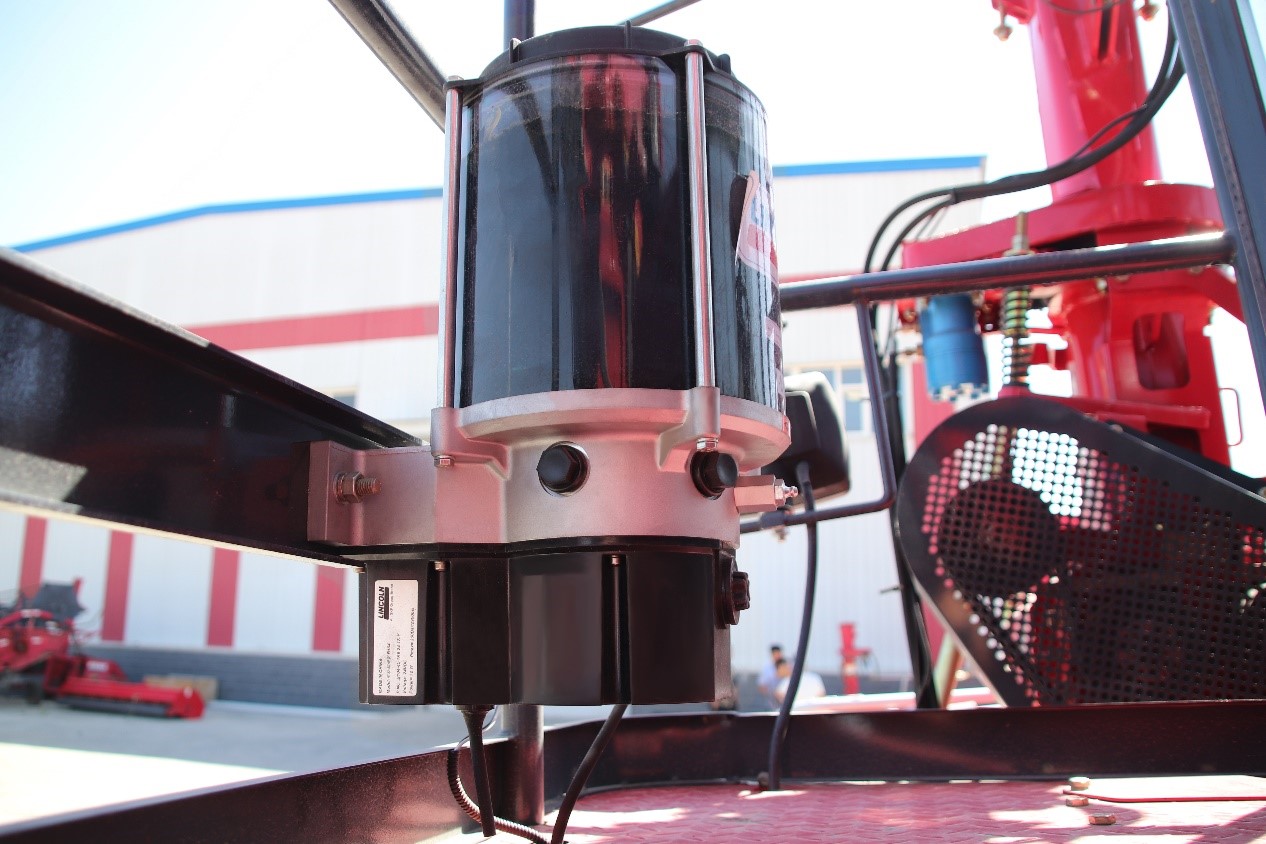 The picture shows the 2019 Mage 4QZ-3000A, equipped with a 3-meter low-cutting head, with a grain crushing device, and an air conditioner. Compared with the old model, the prominent change is that the engine water tank highlights a part of the car body. The centralized lubrication system is equipped on the left side of the header, and the grease storage tank and pump are on the left side of the vehicle body, which can be seen by opening the cover. It is understood that this centralized lubrication system adopts electronic control, and the main components will be regularly greased when the silage is in operation.
The grease storage tank and pump of Makishen 4QZ-2200A self-propelled silage harvester are on the left side of the cab.
Although the centralized lubrication system has many advantages, users should also pay attention to replenishing the specified grease in time during use, and be careful not to mix debris into it to avoid clogging the pipeline.