葡萄干粗精加工生产线是新疆机械研究股份有限公司经过多年的研制、改进而开发的葡萄干加工设备,并出口到国外。 The 6PT raisin rough processing line is a raisin processing equipment developed by Xinjiang Machinery Research Co., Ltd. after years of research and improvement, and exported to foreign countries. 20 家规模较大的主流葡萄干加工企业投入使用。 At present, there are nearly 20 large-scale mainstream raisin processing enterprises in China. The equipment's key structural design and technical innovations, such as low-breakage lifting technology, high-pressure water flow cleaning technology, circulating water reuse technology, high-speed centrifugal spin-drying technology, and uniform oil application technology, etc. At the same time, pay attention to reasonable processing technology to improve the reliability and processability of this technology. The reliable universal parts, external components and stainless steel materials are selected to give full play to the characteristics of the technology while ensuring equipment quality and performance indicators. Provide advanced and applicable machinery and equipment for the production of raisins in China, and meet the needs of the rapid development of modern raisin deep processing.
、 Z 型提升机 、气泡清洗机、水道冲洗机、震动分水机、离心脱水机、风力机、干燥机、型喷、上油机、拌油机、电控柜、风力系统及水循环系统、辅助配件等部分组成以实现红、绿葡萄干的上料、清洗、去石、去泥沙、脱水、除雾、烘干、上油拌油等加工工艺。 Raisin finishing production line is composed of vibrating feeder , Z -type hoist , bubble cleaner, water channel washing machine, vibration water separator, centrifugal dehydrator, wind turbine, dryer, sprayer, oiler, oil mixer, The electric control cabinet, wind power system, water circulation system, auxiliary accessories and other parts are composed to realize the processing technology of feeding and cleaning of red and green raisins, cleaning, stone removal, sediment removal, dehydration, defogging, drying, and oil mixing.
、 6SL-2.0 型振动喂料机 1 , 6SL-2.0 type vibration feeder
During the operation of the machine, the vibrating part provides the raisins to roll forward slightly, so that the materials are spread as far as possible, and at the same time, the small impurities are sifted through the sieve holes.
、 6PD-2.0 型带式提升机 2 , 6PD-2.0 belt elevator
This hoist is designed for open raisin equipment for raisins that are easy to break and easy to adhere.
、 6QP - 2.0 气泡 清洗机 3 , 6QP - 2.0 bubble cleaning machine
This machine is aimed at the characteristics of raisins that are easy to break and absorb water quickly. It uses a high-power bubble generator to quickly clean the surface of raisins from dust, sediment and sugar.
、 6SD - 2.0 水道冲洗机 4 , 6SD - 2.0 water channel washing machine
The machine uses a large amount of water to impact the raisins on the surf step belt and rolls fiercely in the water, thereby achieving the effect of removing stones.
、 6FS-2.0 震动清洗机 5 , 6FS-2.0 vibration cleaning machine
This machine separates the raisin and water mixture, and then sprays and cleans it with high-pressure water to achieve the purpose of washing raisins in a short time.
、 6LX - 1.0 型连续式离心脱水机 该机采用了连续高速离心脱水技术,并增加一套风力排料、排雾水系统,及时强行排除高速旋转中产生的水雾,做到无破损、脱水更充分,是目前国内先进的连续式高速脱水机械。 6 , 6LX - 1.0 type continuous centrifugal dewatering machine This machine adopts continuous high-speed centrifugal dewatering technology, and adds a set of wind discharge, fog drainage water system, forcibly removes water mist generated during high-speed rotation in time, so as to avoid damage, Dehydration is more sufficient, and it is currently the advanced continuous high-speed dehydration machine in China.
、 6FC-2.0 型风力除水机 7 , 6FC-2.0 wind dewatering machine
This machine is mainly used for further dewatering and defogging of raisins after cleaning and dehydration processing.
、 6PG-2.0 型干燥机 8 , 6PG-2.0 type dryer
This machine is mainly used for drying the surface of raisins by using strong air-drying raisin skin.
、 6PY-2.0 型喷、上油机 9 , 6PY-2.0 spraying and oiling machine
. The machine consists of a heater, thermocouple, thermostat and actuator to form a fully automatic temperature control heating system, which reduces the viscosity of the oil, sprays the oil onto a certain amount of raisins, saves oil, and sprays evenly .
、 6PB-2.0 型拌油机 10 , 6PB-2.0 type oil mixing machine
The machine advances and rolls the raisins through the spiral propelling blades in the drum to achieve rapid advance of the drum inlet, small advances and large rolls in the middle, so that the oil layer on the raisins is evenly applied.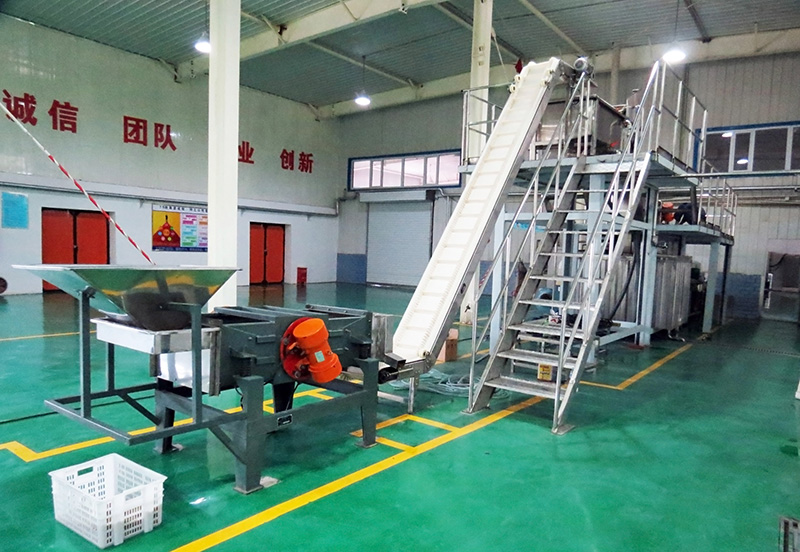 Finishing production line parameters:

| | |
| --- | --- |
| project | parameter |
| Production line length (standard line) | 米 30 meters 3.9 米 Equipment. 3.9 meters high |
| Production efficiency (standard line) | 吨 / 小时 2 ~ 2.5 tons / hour |
| Total power (standard line) | 43KW |