"Big-eared sheep grow fast, have strong reproductive and disease resistance capabilities, and have high benefits." On October 29th, Ma Xueming, a villager in Xiachahe Village, Yongning Town, Yonghui Autonomous County, Xinjiang Bayingoleng Mongolian Autonomous County, was feeding grass Sheep are rare.
Over the years, in order to find a new way to increase income and become rich, the Ma Xueming's family has tried many ways, planting the ground, raising pigeons, and raising cattle.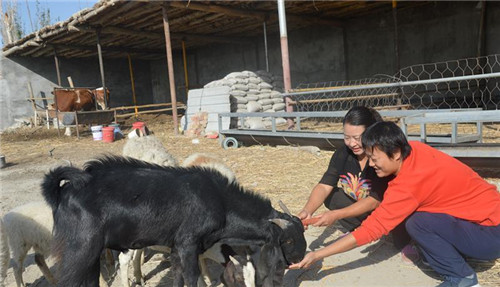 With the continuous improvement of people's living standards, Ma Xueming found that ordinary people have higher requirements for the quality of mutton. In the past, mutton sheep with higher fat content were gradually not recognized. Since the presence of the Shexian Market Supervision Administration's village team, Ma Xueming has discussed with the team many times, focusing on big ear sheep breeding and fattening. They collected information online, consulted the relevant situation in detail, and through comprehensive analysis and thoughtful consideration, they recognized that raising big-eared sheep is an industry with great potential, quick results, good prospects, and high economic benefits.
Ma Xueming said: "I have introduced 10 big ear sheep from Sichuan, and 5 more from behind. Now an adult sheep sells for more than 10,000 yuan, and the price of a new born lamb is also around 4,000 yuan, The price of ordinary sheep is much higher. ".. After the batch of big ear sheep was sold, Ma Xueming's breeding confidence was further strengthened.
Ma Xueming turns around in the sheep pen every day, takes good care of it, cleans the pens, cleans up the sundries, checks the situation of the sheep, and takes timely measures when problems are found. Usually, no matter how the feed mix or the operation of the breeding facilities, every detail is not relaxed.
"The working team often came to my house to see the growth of big ear sheep, and invited technicians to give guidance and impart disease prevention knowledge, and also helped me publicize it. Thank you very much. I also want to introduce another 20 big ear sheep to expand the scale of breeding."
The village .. secretary and team leader Yang Xiaojun said: "Ma Xueming introduced big ear sheep, and the first test of water made good results. The surrounding villagers want to introduce big ear sheep. The team will give full play to the role and invite professional and technical personnel to carry out regular breeding. The technical training stimulates their enthusiasm for breeding and raises the level of breeding. The next step is to rely on the courtyard economy to carry out large-scale breeding of big-ear sheep and lead villagers of all ethnic groups in Xiachahe Village to run a well-off society as soon as possible. "