After noon, standing next to a hot red pepper field, Guo Laohan kept on the phone and said, "Do you still have a car there, can you come quickly?" A few hours later, the pepper harvester will drive into his field. It's inside, but Guo Laohan, the dump truck carrying peppers, hasn't found a good one yet, so he's very anxious.
The new generation of pepper harvester has very high operating efficiency. It only takes 2 hours. Only 20 green acres of pepper fields are left with green rods, and all the red peppers are put into the car. This efficiency makes other follow-ups much faster.
This is a scene that took place in Anjihai Town, Shawan County, Xinjiang. Since September, locals have been racing against the harvest and transportation of peppers.
Because of the long sunshine time, large temperature difference between day and night, and unique land and water resources, the peppers produced in Anjihai Town, located at the northern foot of the Tianshan Mountains, are of high quality and are sold throughout the country.
For the locals, this shining chili pepper means that half of the income of the year must be harvested in time to finish drying on the Gobi Desert.
Over the years, pepper fields have undergone tremendous changes, and machines have basically replaced human labor. This year, Anjihai town has more than 40,000 acres of pepper fields, and the operating rate of agricultural machinery exceeds 95%.
A self-propelled pepper harvester can collect 80 to 120 acres of land a day, and the harvest price is about 100 yuan per acre. The manual picking costs 6 gross per kilogram, and the calculation cost is 2 million yuan per mu. In terms of efficiency, one person per day. More than 500 kilograms are harvested, while a harvester can harvest 100 acres a day, with a top of 400 people.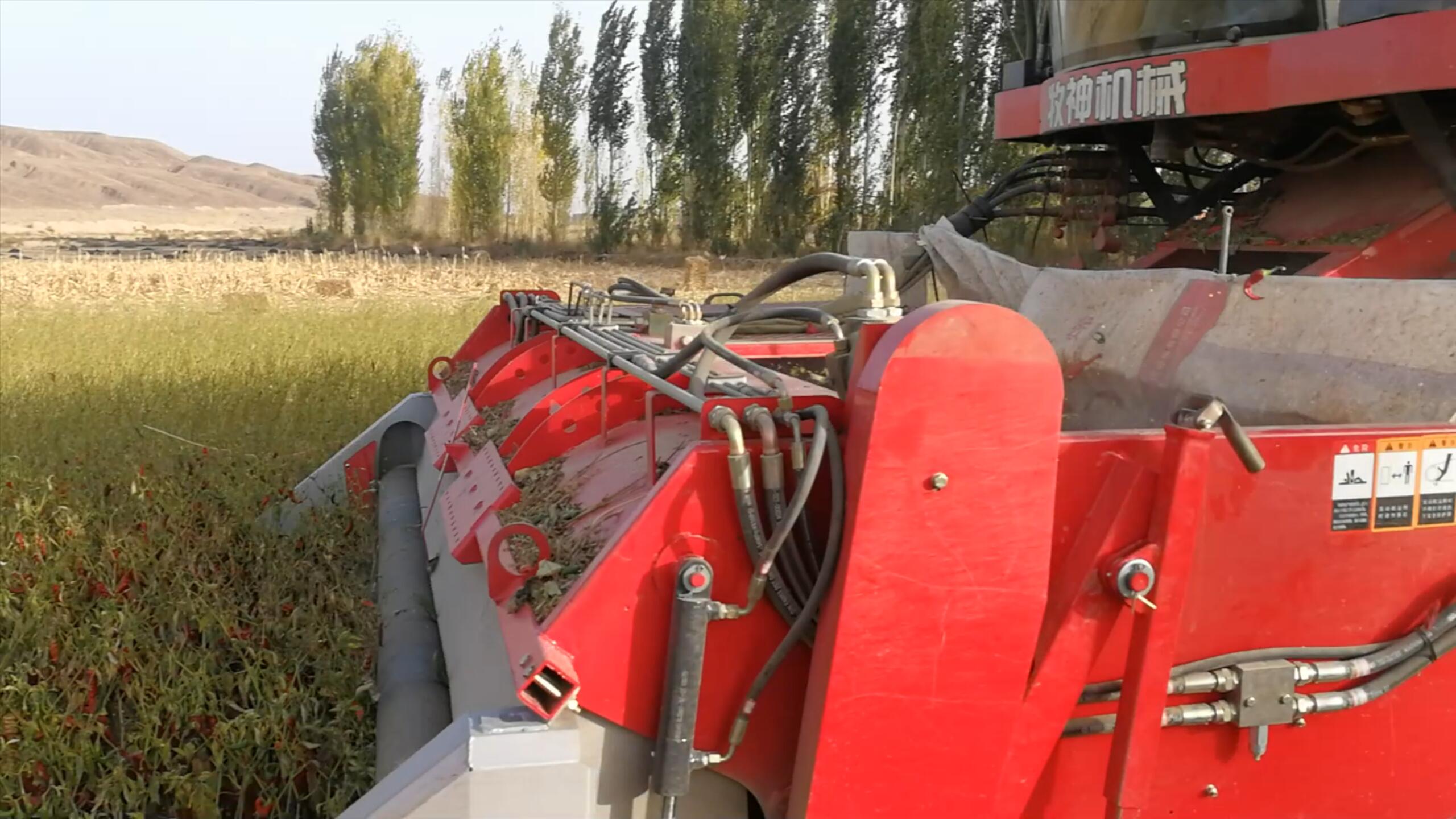 In 2014, Liu Peijun set up a cooperative with several large households and decided to use machinery to collect peppers. This means that the planting pattern has changed drastically. "It's rare, old people say we're fooling around."
Okay, it depends. In the autumn harvest that year, two villagers came to watch the pepper harvester. The magical and efficient "machine pepper picking" allows everyone to gain insight and increase confidence.
In just a few years, from sowing, spraying, and harvesting, the entire mechanized operation was spread in the local pepper field.
The rapid advancement of mechanization is attributed to Shawan's efforts to integrate "large farmland" for 10 years.
In the past, the agricultural land in Shawan was generally fragmented and scattered, and large agricultural machinery was inaccessible. More than 10 years ago, inspired by the large-scale "farmland" of the eighth division of the adjacent Xinjiang Production and Construction Corps, Shawan people decided to step out of the "broken field". The local government encourages farmers to exchange land, integrate it, and explores land transfer in the form of farmers' land cooperatives.
In 2013, the farm village where Liu Peijun was located completed land integration, and the fragmented farmland of small families and small households achieved "continuous land", and large machinery entered smoothly.
Human-machine cooperation is continuously deepening. Today, the pepper harvester made in Xinjiang has been updated to the fourth generation, and the harvesting efficiency has been continuously improved, which is widely favored by farmers. The possession of a large number of agricultural machinery has spawned many maintenance and modification experts in Shawan County. The mechanic Zheng Yasheng has successfully modified a pepper harvester this year with performance close to the fourth generation.
The peppers planted by Liu Peijun Cooperative have reached more than 6,000 acres. He said: "In the past, all villagers had to plant the land in the village. Now 5 people are enough."
The Gobi Beach has thousands of acres of sunbathing fields, which are full of fiery red. Liu Peijun told reporters that this year, he brought more than 50 villagers "liberated" from the land to Aksu in southern Xinjiang to cover thousands of acres of land, bringing modern agriculture in Shawan past.